Dutch government loses track of 2.3 million workers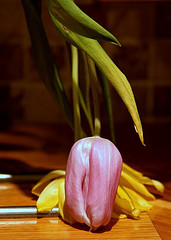 Since 2014 the Dutch government has lost track of some 2.3 million seasonal workers, all foreigners who don't have to register where they live if it they come over for less than four months, making them difficult to track down. However, that also means nobody can check whether they are being exploited or mistreated. They do have an identification number (in Dutch, 'BSN') to be able to receive their salaries in their bank accounts, but that's it.
Have they stayed in the Netherlands, have they gone? No idea.
As explained by Dutchnews.nl, people planning to live in the Netherlands for more than four months are required to officially register with their local authority using a formal address. As explained by my personal experience of 20 years in this country, people make up addresses or use ones that have 20 people registered in it, which is illegal, but often goes unchecked.
(Link: nos.nl, Photo of wilted tulip by Graham Keen, some rights reserved)