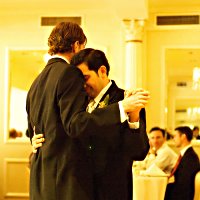 Civil servants who felt that the term "maiden name" might not be appreciated by the participants in an all-male wedding asked the Nederlandse Taalunie (Dutch Language Union) to come up with a new phrase. The Union is not in the habit of creating words but asked around (Dutch) and found out that some people had already started using "geboortenaam" (lit. birth name, and not, as one commenter at the Queerty blog would have it, gay birth name). :-)
An alternative, "geslachtsnaam" (inherited name) was rejected for being cumbersome and old-fashioned, according to the Onze Taal blog (Dutch).
Photo by CarbonNYC, distributed under a Creative Commons Attribution 2.0 Generic license.