Bright orange Dutch architecture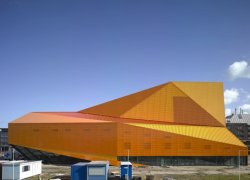 The new Agora Theatre is officially scheduled to open on May 25 in Lelystad, province of Flevoland and plans to feature performances and new media works. The building is the work of UN Studio, an Amsterdam design studio with theatre, museum and art buildings in its portfolio. Even without going to the show, the building itself is apparently worth a visit. It has a cafe open during the day and bright pink, curving staircase walls. The concert hall is red with unusual wall surfaces.
Follow the link for more details and pictures.
(Link: thecoolhunter)
No Comments »
No comments yet.