Action group cuts down advertising forest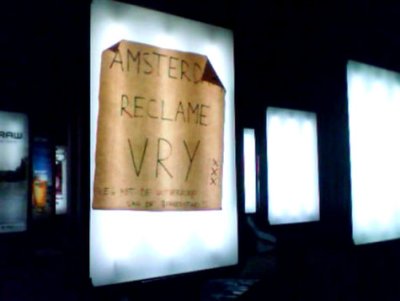 The idea of a 'visual assault' was taken quite literally by an action group who got rid of some of the posters and put up some of their own last night. Here, you can read 'Amsterdam, free of adverstising'. They claim – as many people already believe, if you ask around – that "the advertising firm in question is working on the further commercialisation of the city, destroying the charactertisitc street image." Translation: nobody really likes this stunt and everybody thinks it's ugly.
A Labour Party politican of De Pijp neighbourhood told 24oranges that this entire incident will be discussed in the next city district council meeting.
(Link)
1 Comment »
This was a perfect way to protest against this.
The council members who allowed the visiual assault in the first place should be fired!

Comment by Kevin — April 20, 2007 @ 1:05 pm