Gorilla runs amok in Dutch zoo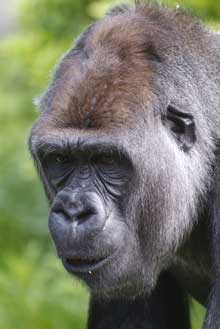 Yesterday afternoon, in the Rotterdam Zoo (Diergaarde Blijdorp), the almost adult gorilla male Bokito escaped from his pen (crib? pad?) and basically attacked a woman by biting her. Then, he popped over to the terrace of the Oewanja restaurant at the zoo and totally freaked people out. An employee of the restaurant was (is still?) in shock and the zoo is offering victim help. How this happened is as yet unknown. The fact that he could swim and cross the moat in his pen/crib/pad is a mystery to the keepers, as they say gorillas cannot swim. Maybe this is a real Dutch water gorilla.
Moral of the story: we cage up wild animals for our own pleasure and we don't like it when they take off and attack people.
(Link: Diergaarde Blijdorp, via Netherlands Post)
2 Comments »
[…] Burgers third. Burgers feels the swap can be explained by the extra attention Blijdorp got after gorilla Bokito escaped […]

Pingback by 24 oranges » Most visitors still to Efteling; loses number 1 brand spot to Ikea — November 23, 2008 @ 2:58 pm

[…] attitude by the people in the video may be explained by the fact that Blijdorp zoo has had high-profile break-outs in the […]

Pingback by 24 oranges » Polar bear tries to run, don't get far — June 11, 2012 @ 11:38 am