The caterpillars come marching one by one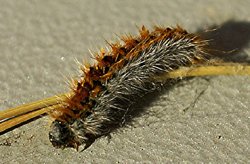 Although quite common in the southernmost province of Limburg as well as in Belgium, for the first time ever processionary caterpillars have been spotted in the Kralingse Bos, a forest in the middle of the city of Rotterdam. In Belgium, they even got the army to combat these caterpillars whose hairs can give people rashes and make them itch. As of tomorrow, the city of Rotterdam will start killing the critters, although they are few in rank. Due to the warm weather, they decided to go North.
(Link: Blik op nieuws)
No Comments »
No comments yet.