Label for fake images in Dutch magazines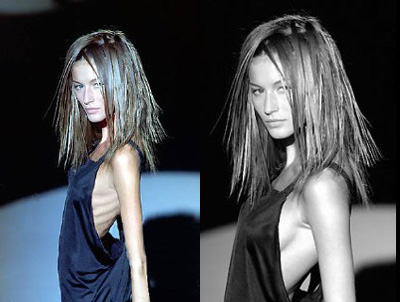 After the eye-opening success of Sunny Bergman's documentary 'Beperkt Houdbaar' ('Limited Preservation') about the unrealistic beauty ideal of women in the media, seven Dutch magazines will each publish one issue in September in which every picture will be labelled as being 'Photoshopped' or not. The magazines Viva, Playboy, Yes, Top Santé, Psychologie Magazine, Marie-Claire and Opzij are taking on Bergman's challenge. One of Bergman's key points was that 'Photoshopped' images contribute to this unrealistic ideal.
For those unfamiliar with Dutch magazines, please note that a notorious girlie magazine (Playboy) as well as a feminist magazine (Opzij) are part of the seven. In Bergman's documentary, Playboy was pointed out as perpetrating an unrealistic image of women's labia majora, which has resulted in an increase in plastic surgery to have one's 'lips' match these 'Photoshopped' images. In the documentary, Bergman herself visits an American plastic surgeon who tells her she "needs the works".
(Link: rtl)
2 Comments »
I knew about the first picture, I didn't know about it being a photoshopped version of the second. Shocking. Thanks Natasha!

Comment by Carola Janssen — July 19, 2007 @ 9:06 pm

This one is good too. A PLAYBOY girl photoshopped just a little too much…
What's missing?:
http://sugiero.blogspot.com/2007/06/photo-in-playboy-magazine-whats-wrong.html

Comment by Pete — December 13, 2007 @ 3:29 pm