Canon of Dutch movies as presented by the Nederlands Film Festival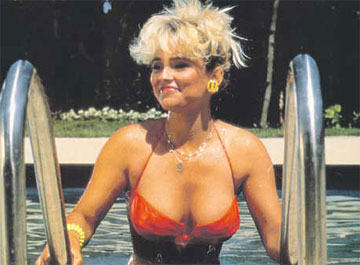 It's canon mania! This time around it's that most prestigious of Dutch film festivals — the Dutch Film Festival — that has released its list of pivotal Dutch movies of all time (Dutch).
Odd that "Verhoeven lite" Dick Maas is listed with as many films as the maestro himself, and not even with The Lift. Not that this reporter fails to understand entirely. Photo: a screen grab from Maas' Flodder.
De mésaventure van een Fransch heertje zonder pantalon aan het strand te Zandvoort, Willy & Albert Mullens, 1905
Een Carmen van het noorden, Maurits Binger & Hans Nesna, 1919
Regen, Joris Ivens & Mannus Franken, 1929
De Jantjes, Jaap Speyer, 1934
Houen zo!, Herman van der Horst, 1952
Fanfare, Bert Haanstra, 1958
Als twee druppels water, Fons Rademakers, 1963
Blind kind, Johan van der Keuken,1964
Ik kom wat later naar Madra, Adriaan Ditvoorst, 1965
Living, Frans Zwartjes, 1971
Turks Fruit, Paul Verhoeven, 1973
Flodder, Dick Maas, 1986
Het Zakmes, Ben Sombogaart, 1992
De Noorderlingen, Alex van Warmerdam, 1992
Het is een schone dag geweest, Jos de Putter, 1993
Father & Daughter, Michael Dudok de Wit, 2000
5 Comments »