Pink cab trend hits Tilburg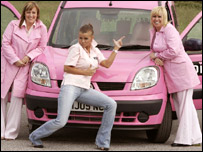 Women in and around the city of Tilburg, Noord-Brabant will soon be able to travel in special women's taxis, it was announced today. The new company, which will operate on the same fare structure as regular cabs, has been founded by local businesswoman Tanja Schollen, who heads the cental station taxi company in Tilburg. The company employs only female drivers and caters exclusively to female clients. The taxi company, called the 'Pink Lady Cab', will initially operate with two cars, each of which will have pink roofs. They will work during the day and on weekend nights. "Female customers often indicate they feel safer with a female driver," Schollen told reporters, "we also expect a lot of clients who for religious reasons prefer not to sit in a car with a strange man." Female taxi companies have proven to be successful in several major cities in Europe and the Middle East, including London and Dubai.
So I guess after two years in London, trying it out in the Netherlands is a safe bet. Too bad no one has the brains or guts to do this in Amsterdam.
Here is more info over London's Pink Ladies from 2005.
(Link: earthtimes.org, Photo: Pink Ladies, London)
No Comments »
No comments yet.