Genever, not gin, is protected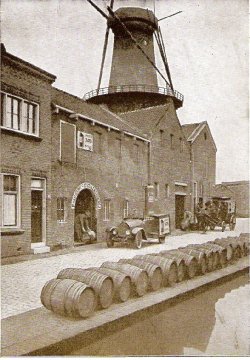 It's called jenever in Dutch, referred to as 'genever' in English and the rest of the world calls it 'gin'.
Jenever can only be made in the Netherlands, Belgium and a few German and French provinces. The ministers of agriculture granted jenever the status of protected geographic indication last Monday.

The Netherlands traditionally has a number of large jenever distilleries, in Schiedam (shown here), Amsterdam and Groningen, to name a few. In Belgium, Hasselt is the best known city for this strong alcoholic drink.
Read more about this underrated drink and if you want to visit Schiedam, the town with the five biggest windmills in the world, check out Ontdekschiedam.nu, a site I did some work on.
I read a few articles that said that the Dutch introduced gevener (gin) to Ghana through the slave trade some 150 years ago. It is still used for special occasions, but then the real Dutch variety, not the local moonshine.
A glass of jenever is at least 35% alcohol. Young jenever is the most commonly drunk spirit in the Netherlands: 170,000 hectolitres in 2005, according to figures from the Commodity Board for Alcoholic Drinks.

'Jenever' was discovered in the Middle Ages during the search for medicines: the medicinal juniper berry was added to brandy wine. These days grain or treacle from the sugar industry is the basis for the alcohol in 'jenever'.

Agriculture minister at the time Cees Veerman suggested to his EU colleagues last year that 'jenever' be declared a protected product. There were no objections.
(Link: expatica.com)