All cute things come to an end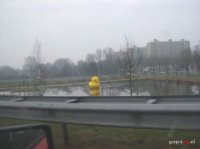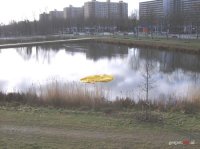 What was once a big blow-up bath duck floating around near Station RAI in Amsterdam is no more. The duckie, made by Rotterdam artist Florentijn Hofman, was supposed to stay until the end of March to liven up the 'Zuidas' (South axis) of Amsterdam, a part of town with skyscrapers and businesspeople. Hofman had not told the general public about the duck, but it was photographed by Louis Hofman (no relation). We know it's Hofman's because he had a HUGE one last summer in St-Nazaire, France.
To quote the artist, "the bath duck is soft, friendly and for young and old." Was.
(Links and photo: AT5, nieuwsuitamsterdam)
2 Comments »
What do you mean, "was"? It's just taking a rest! It's pining for the fjords!

Comment by Branko Collin — January 7, 2008 @ 12:59 pm

[…] Florentijn Hofman basically explains that the rubber duck is friendly and makes people happy. We spotted his work in Amsterdam once back in January 2008 and this video shows us what the port of Osaka looks like […]

Pingback by 24 oranges » Rubber duckies invade Osaka — September 29, 2009 @ 11:01 am