25 years of wine barrels as hotel rooms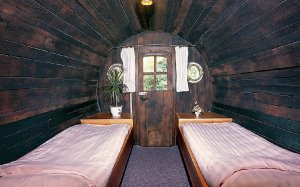 The Vrouwe van Stavoren hotel in Stavoren, Friesland, has been offering Swiss wine barrels as hotel rooms for the past 25 years. The barrels with a volume of 14,500 litres are furnished with two single beds, a small living room with TV, and a bathroom with a shower and a toilet. They are located on the porch of the main hotel. Owner Bauke Kolk copied the idea from a foreign hotel. It has been so successful that there's an actual waiting list for those who want to stay in one of the barrels.
Good news for the hobbit wannabees among us though: Kolk has bought 8 more barrels, French ones from the château Corcelles that were used to store Beaujolais. These will have room for a double bed; Kolk believes that these are more suited to young couples. The French barrels are currently located at a carpenter's in Stavoren, where they are presumably being made rock-proof.
The hotel is named after a legend (Aarne-Thompson index 736A) that explains the decline of the once proud city of Stavoren into a mere village (though the real reason is really more prosaic).
Via Zibb (Dutch).
No Comments »
No comments yet.