Director fakes rampant racism, gets sacked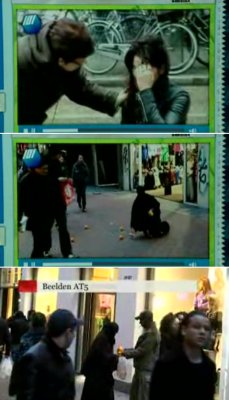 Last week, a director working on a fake TV news item about racism in the Netherlands got caught with his pants down because a competing station happened to have a crew nearby filming the whole thing. The director had set out to film a piece exposing rampant bigotry by showing that people in Amsterdam will not stop and help a woman in need if dressed in a niqab.
In order to measure this bigotry, the crew's reporter would drop a bag of oranges and see who would help her pick them up. After a while she would change to a niqab, a garb worn by some Muslim women that covers everything except the eyes, and repeat the exercise.
And it seemed the crew got exactly the sort of result they expected. When dressed as a Westerner, people would help the reporter pick up her oranges. But the moment she switched to the niqab, help was no longer forthcoming. The cold eye of the camera registered a forlorn woman, crouching in the middle of the street amidst her belongings, while passers-by took a wide berth around her.
Except that it was all staged. Local TV station AT5 was there, and filmed the whole thing. People who wanted to help the woman in the niqab were shouted at by the director who told them to move on. Even then that did not stop some of them to actually help. After 101 had streamed its program, AT5 contacted them for commentary. Originally, the youth channel denied that anything shady had been going on. They thought the attention was exaggerated, and that people only started to help when they saw the AT5 camera crew. But the station must have smelled a rat, because it later examined raw footage, after which it came out with a full retraction. Apparently, people had been trying to help the niqab-clad woman the whole time. "We ended our collaboration with this director," the press release concludes.
Even in the 101.tv segment there are hints that not everything is as it seems. The host says that she herself has family members who wear a burqa except of course that she is not wearing a burqa but a niqab.
Via Wij blijven hier (Dutch). Source images: AT5 and 101.