Junkie XL commissioned to remix Madonna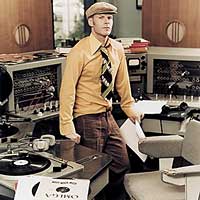 Tonight on Dutch television show 'De Wereld Draait Door', DJ Junkie XL (Tom Holkenborg), presented the world premiere of his remix for the new single '4 Minutes' by Madonna.
Orlando Puerto, the man who handles Madonna's record company business, suggested she do a remix. A list of DJs was submitted to the pop diva and in the end, Junkie XL came out the winner.
Holkenborg had an international hit with a remix of Elvis' 'A little less conversation'. The hit, which was originally music for a Nike advertising, went platinum in 24 countries. Junkie XL's new album 'Booming back at you' came out on 10 March and will be presented on March 23 at the Melkweg in Amsterdam.
(Links: dewerelddraaitdoor.vara.nl)
Update: the entire show here (Junkie XL at 38.35 and onwards), or the Junkie XL / Madonna bit at Youtube.
No Comments »
No comments yet.