Housewives to conquer France?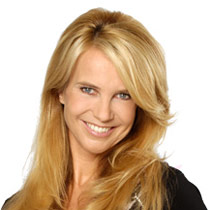 France rarely looks to the North—or indeed to the East, South or West. But last week, the French massively tuned into TF1, their most popular TV channel, to follow the lives of four Dutch bored and rich housewives, as portrayed in Gooische Vrouwen, a vehicle for Linda de Mol (photo) and a Desperate Housewives clone. The series is broadcast in France as "Jardins Secrets" (Secret Gardens) and is dubbed. According to ANP, 2.3 million people watched the first episode, which translates to a market share of 26.6%. At that time the show had competition from "FBI portés disparus" and "Les nouveaux voisins." TF1 broadcast the first three episodes back-to-back, and later during the evening the market share rose to 31.6%.
Gooise Vrouwen means "Women of De Gooi," the latter being the rich neighbourhood of Hilversum where Dutch TV makers used to live. The name literally means The Shire, but is now synonymous with decadence. The saying goes that if you want to make it in Dutch television, you have to sleep "on the Gooi's matress", meaning to sleep with somebody influential in TV land (in lieu of talent or skills). It's the Dutch equivalent of the casting couch, if you like.
Via Z24 (Dutch). Source photo: RTL.
3 Comments »
Being avid watchers of "jardins secrets" as its called here in France – we were rather miffed (to say the least) that it looks like that we are going to be deprived of the last episode of the second series. How comes?

Will it be possible to eventually get the series on D.V.D. We do hope so!!

Those of you who have yet had the chance to watch the series – you don't know what you're missing!!! We do hope that there'll be a third on the way Sooooon. Please.

Comment by Foxcroft-Timms Family!!! — April 29, 2008 @ 5:06 pm

[…] their records would go to help children in poor countries. It was heavily ridiculed for the snooty, Gooi R that the children in it used, and which sounds almost exactly like the British word […]

Pingback by 24 oranges » Best Children for Children's song of the past 30 years — November 14, 2009 @ 1:41 pm

[…] in 2008 when we first posted about it, "some 2.3 million people watched the first episode, which translates to a market share of […]

Pingback by 24 oranges » Rich Dutch housewives show a hit in France — September 3, 2010 @ 10:36 am