Dutch student satellite makes it into orbit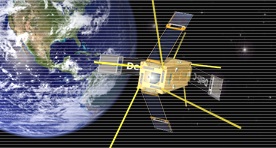 The students at the Delft University of Technology have done something cool again: they've launched a satellite from India. A rocket carrying 10 satellites, including the students' Delfi-C3, was launched from the Sriharikota space centre in southern India. Former air and space travel student Joost Elstak says the first contact with the satellite was made just after lift-off. "So, we know it's working," he explains. The satellite is only 30 cm long and not much bigger than a carton of milk.
The rocket is also carrying student satellites from Denmark, Japan, Germany and Canada.
(Link: radionetherlands.nl)
No Comments »
No comments yet.