Man wins 980,000 euro in casino poker game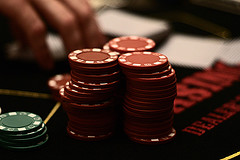 Last Tuesday a man won 980,000 euro in a poker game at the Holland Casino in Rotterdam. The man, who wishes to remain anonymous, played a relatively rare variant of the game called Caribbean Stud Poker in which part of the winnings go into a jackpot. A royal flush managed to help pry loose the contents of this jackpot.
Owner Holland Casino, the state-owned and only legal casino company in the Netherlands, declared that this was the highest jackpot in Rotterdam ever.
(Link: Z24 (Dutch), Photo by Jam Adams, some rights reserved)
No Comments »
No comments yet.