Biggest indoor golf venue to be built "somewhere in the Netherlands"
One John S. Standing is planning on opening the world's largest indoor golf centre in 2010, "somewhere in the Netherlands." The building, shaped like a golf club, is designed by architects Zwarts & Jansma from Amsterdam who've worked on large sports venues before. The "head" would house the golfing facilities whereas the "shaft" would contain a hotel.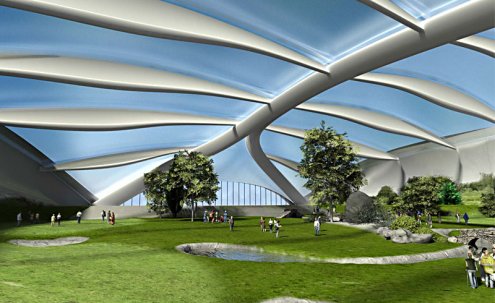 Some 20 golf simulators, a rooftop driving range with 34 bays, a restaurant, a shop, and 14,000 square meters of synthetic grass to practice one's short game complete the picture. The centre would be called Indoor Golf Arena. According to Gizmag.com, "the location of the center has not yet been finalized, but […] talks are underway with local councils in The Netherlands […] to establish a site for the facility which is expected to attract up to 150,000 visitors a year."
No Comments »
No comments yet.