Haarlem mayor 'corrects' the Chinese although wrong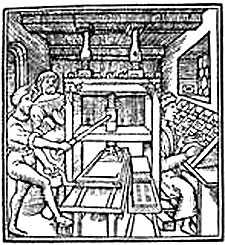 There is no honourable way of putting this: the Mayor of Haarlem is, er, not very well informed. Bernt Schneiders has fallen into the old trap of thinking the Dutch really invented book printing and played Dutch uncle to the Chinese for making what he thinks is a mistake during the opening ceremonies of the Olympic Games when they claimed that book printing is a Chinese invention. Schneiders wrote a letter to the Mayor of Beijing, Wang Qisham resolutely pointing out that Haarlem's Laurens Janszoon Coster invented book printing in 1400, which according to Schneiders is "a well-known fact". Diplomacy as well as history is obviously not his forte.
No one really knows who invented book printing and where, and although Coster had some role to play, so did the Flemish Dirk Martens and Germany's much more productive Johann Gutenberg. Even prominent Dutch linguist Marc van Oostendorp wrote in an article about naming book projects in Europe that people acted "as if China did not exist." Oostendorp adds that "until the 19th century, it was purely nationalist Dutch thinking to suppose that Laurens Janszoon Coster was the inventor of book printing and that Gutenberg stole his idea." He also wrote that "as far as we know today nobody believes in this theory anymore. There is even doubt as to whether Coster even lived in Haarlem". Ouch.
(Link: telegraaf.nl)
2 Comments »
[…] and not democratically elected mayor couldn't do his job, right? He's the man who wrongly lectured the Chinese about the printing press a few years […]

Pingback by 24 oranges » Mayor of Haarlem got his bling stolen — November 22, 2011 @ 2:15 pm

[…] was involved) and who in 2008 'corrected' the Mayor of Beijing Wang Qisham telling him the Dutch had invented the printing press even though he was dead […]

Pingback by 24 oranges » Haarlem bans freezer bags used by thieves — February 1, 2015 @ 1:04 pm