The Law on Internet, geek lawyer's book ready for pre-order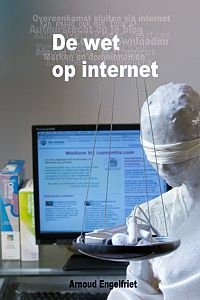 Arnoud Engelfriet is a geek turning lawyer, and a prolific blogger. That puts him a couple of notches ahead of other technology-oriented legal professionals in that he knows what he is talking about when discussing the meeting of law and technology. In September he will discuss this meeting a lot when he publishes his first book, De wet op internet ("The Law on Internet"—the Dutch title unfortunately lacks the second ambiguity).
If you want to know what pitfalls bloggers encounter, when hyperlinks are illegal, or what trademarks have to do with domain names, this book could be what you need. A 5 euro discount awaits those who promise before September 1 to purchase De wet op internet.
Disclaimer: the past few weeks I have been guest-posting at Arnoud's Iusmentis-blog. Cover design by Jolie Martin-Van der Klis.
2 Comments »
Where can I buy it??

Comment by Orangemaster — August 13, 2008 @ 8:03 am

You should be able to buy it at Lulu.com from about September 5.

Comment by Branko Collin — August 13, 2008 @ 9:29 am