Dutchman wins Google prize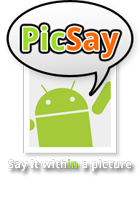 The final phase of Android Developer Challenge I is now complete. Out of 50 teams of finalists, 10 teams received a $275,000 award each and 10 teams received a $100,000 award each. One of the $275,000 winners is Eric Wijngaard with his mobile operating system PicSay.
PicSay allows you to quickly add word balloons, titles, and props to the pictures you have taken with your mobile phone camera. Enhance them further with various color correction, highlighting, and distortion effects, and then easily share them with your friends and family via e-mail, your blog, or photo sharing sites on the web.
(Link: code.google.com)
1 Comment »
A mobile operating system?? o_O
I think that's a tad too much credit for a mobile application…

Comment by Eric — September 1, 2008 @ 12:36 pm