Biggest foul mouths on the web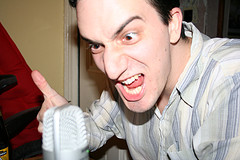 The Dutch are the worst foul mouths on the web in Europe according to a report (Dutch) by Christian daily Trouw (literally Loyalty). Germans enter comment threads of news sites with "dear Madam slash Sir," the French don't shy away from harsh language, but always reasoned, and the British pepper their comments with humour. The Dutch on the other hand are less sophisticated. They wish to ram their fists up the prime minister's and the state budget up his replacement's behind, to have the army rape Moroccan kids and to send "the Jews" to, er, the quiet province of Drenthe.
I didn't get that last one either.
According to NoviaFacts, a company that moderates comments for newspaper De Telegraaf, some articles generate such bile that only about 10% of the comments can be published. The Dutch are too negative, says NoviaFacts' CEO Claudia van der Laan: "Even when Anky van Grunsven wins a golden medal during the Olympics you still get people who say 'Oh look, it's horse face again.'"
Via Bright (Dutch). Related articles "Schelden op nieuwssites typisch Nederlands" and "In andere landen zijn andere 'uitlaatkleppen'" (both Dutch). Photo of and by Jason Cartwright, some rights reserved.
4 Comments »