Soft bathtub like sinking into a sofa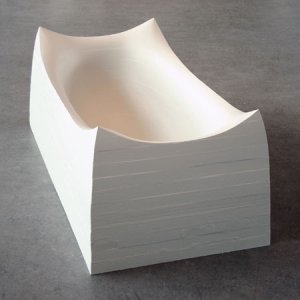 Dutch designer Maren Hartveld presented a soft bathtub called the Tender Tub at the Design Academy Eindhoven graduate show in the Netherlands earlier this month. "Bringing a new meaning to sinking into one's tub," says Hartveld. "A free-standing soft bathtub made from polyurethene coated foam rubber; not cold and hard like the average bathtub, but soft and warm, and comfortable like a sofa".
At first glance, the corners are scary, many people commented, and give the impression that you could poke an eye out. It also looks difficult to clean, others said. And seeing the thing in use would be a good idea. It does look cool.
(Link: dezeen.com)