Lost Amsterdam Bed-In photos found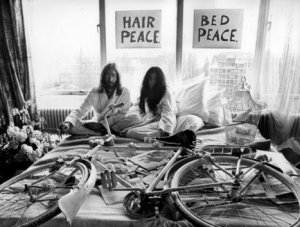 The daughter of photojournalist Nico Koster found a series of unique pictures in some box with old baby pictures of the world-famous 'Bed-In' that John Lennon and Yoko Ono held in March 1969 at the Hilton Hotel in Amsterdam. Koster, who works for the Dutch paper De Telegraaf, had lost the precious negatives of an exclusive photoshoot he had in Room 902 (some sources say 702) of the Hilton Hotel.
And when you're Canadian like me you know more about the Montreal Bed-In, which took place in May 1969 because of the song that was spontaneously recorded there, Give Peace a Chance.
(Link and photo: parool.nl)
1 Comment »
Make loove not war. All we are saying, is…

Comment by Neil — December 7, 2008 @ 6:38 pm