Adoption case with DVD for adoptive parents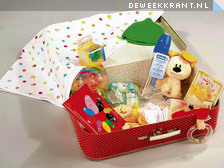 In the Gelderse Vallei hospital in Ede, Gelderland, babies that get put up for adoption also come with an adoption case complete with a DVD of the first few days, toys and a diary written by the attending nurse. Of the 20 to 40 adopted babies every year in the Netherlands, five of them are born at the Gelderse Vallei hospital. Since the first few days are so important, as adoptive children rarely have any photos or information about that time in their lives, the hospital thought a nice case full of memories and practical things, such as a blanket and some clothes, was a good idea. On television, there was also talk of the biological mother leaving a note and whether nurses had time to write something in the diary for the future parents.
(Link and photo: deweekkrant.nl, via Editie NL)
No Comments »
No comments yet.