Bomb wreck jewellery exhibition in Groningen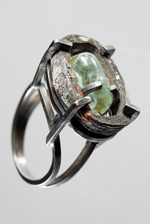 The pieces of a bomb wreck in Baghdad that killed 38 people and that were collected and presented at the exhibition Autobomb III in September 2007 in Rotterdam have now been turned into jewellery, says Bright.nl. For this project artist Jonas Staal worked together with Jiska Hartog and Michiel Henneman, better known as Wanted Jewellery (see pics). The trio used glass and metal slivers from the bomb wreckage to produce a series of unique pieces of jewellery (more pics). The jewellery is on display in Groningen as of this evening.
And yes, the whole idea is not about producing jewellery out of people's misery (the jewellery is not meant to be worn), but discussing the bombings and the idea of jewellery being used as a means of questioning social issues.
(Link: bright.nl, Photo: Hartog, Henneman and Staal)