Underground Dutch videoblog pulls the plug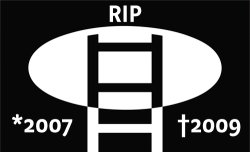 Another well-known Dutch site about all things underground in and around Amsterdam ondergrond.tv unfortunately decided to call it quits yesterday. It seems that keeping a videoblog online took a toll on the 10 people working at it and who knows what else (time, money, etc.). Ondergrond.tv was popular among the 18 to 30 segment and was part of independent Amsterdam newspaper Het Parool.
The 495 videos made by Ondergrond.tv will remain online on their YouTube channel. We at 24oranges wish them all the best of luck in the future.
2 Comments »
I never knew ya.

Comment by Neil — February 5, 2009 @ 2:08 pm