Tilburg to give 1.5 ton park bench to Changzhou, China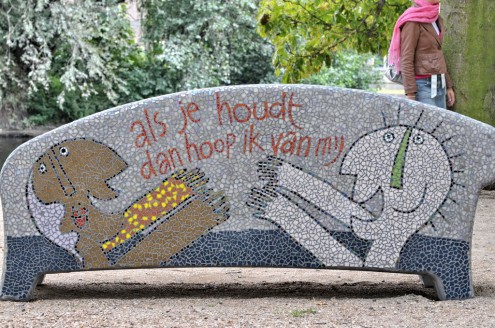 When mayor Vreeman of Tilburg goes to Changzhou in China next September, he will present the sister-city with a so-called Socialsofa, reports Brabants Dagblad (Dutch). The Social Sofa is an invention by local comedian Karin Bruers who wants the outdoors to be a place where people talk to each other again.
Meanwhile real Tilburgers shun the English, marketing-friendly name and call the thing 'benkske' (little bench).
The Socialsofa is made of concrete, weighs about 1,550 kilo, and can be illustrated using paints or tiles. The bench in the photo is one of eight placed in The Hague in October last year.
(Photo by FaceMePLS, some rights reserved. Design of this bench's mosaic by Wouter Stips. The text reads "If You Love I Hope It's Me.")
1 Comment »
Local comedian. It's a joke right? The conversations in China will go something like this.

Hello.
Hello.
What does it say on the bench?
I don't know, it looks like a romance language.
Is it a joke?
I don't know.
Ok Bye.

Comment by Neil — April 30, 2009 @ 5:08 pm