Don't DIY Days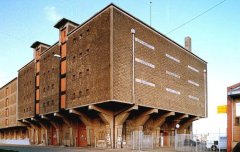 Work a day for free, and reap the fruits of other creative professionals doing the same for you. That, in a nutshell, is the big idea behind the Doe Het Niet Zelf Days (Don't DIY Days). These events can be themed—the Don't DIY Week of last October was all about making animations—or have a more general purpose such as the most recent day last April which was for "creative entrepreneurs." Creative Cities Amsterdam Area organizes these days—they will take registrations for the next event using online forms that prospective participants can use to explain what they have got to offer, and what they need.
The closest thing this reminds me of are BarCamps, volunteer conferences, though those tend to focus more on talks, where at the end of a Don't DIY Day you end up with actual product.
The most recent Don't DIY Day was in Hilversum—no new event seems planned at the mo.
(Photo of Pakhuis de Zwijger, hub for many "new media" events and iniatives in Amsterdam, by bMA, may be used under condition that the source is mentioned. Link: Bright.)
No Comments »
No comments yet.