André Rieu gets his own stamps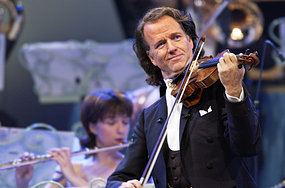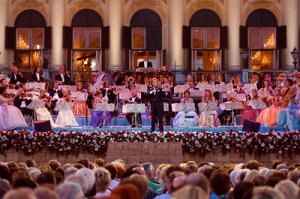 On 14 July, world-famous violinist and orchestra leader will be presented with a postage stamp booklet featuring him with his violin, walking the dog (!) and what not on the main square of Maastricht, Het Vrijthof. On this very square, he will be performing an open air concert for the fifth year in a row, although this time it will be the 30-year anniversary of his frilly-dress, pastel-clad Johann Strauss orchestra. And yes, he's from Maastricht, Limburg and speaks Dutch with that special softness that my main co-blogger does.
Although André Rieu is unquestionably the Waltz King in the eyes of the common man, he grates the nerves of many a native for his obvious kitsch factor, campy music and his perfectionistic ways. He annoys classical musicians, saying that they are jealous of his success, has been seen on Dutch reality television yelling at his employees for not being fully committed, and has been known to keep the tighest of reigns on this business, considering his immediate family runs it. The latter seems to make perfect sense to me.
Either way, the man is a huge Dutch star and probably deserves a stamp or two. If my grandmother were Dutch and still alive, she would have called his music "beautiful music" and been bang on.