Patching up broken bits of Amsterdam with LEGO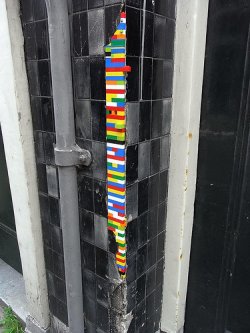 If you can build things with LEGO, you can fix things with LEGO, right? Platform 21 Repair held a Dispatchwork session organised in Amsterdam with a little group of enthusiastic dispatchers and a big bag of colourful LEGO.
Platform 21 billed this event as "LEGO fix for distressed walls", an art project by Jan Vormann, which fits into the Platform's very clear manifesto of reparing things being creative, outliving fashion and, à  la Nietzsche, making you stronger.
(Link: janvormann.com, Photo: marc0047, some rights reserved)
2 Comments »
I really like this project. Be curious to know whether he glues them in; and whether has to saw individual Legos to get a good fit.

Comment by Toby — July 20, 2009 @ 4:09 pm

[…] Patching up broken bits of Amsterdam with LEGO […]

Pingback by 24 oranges » Rietveld Schröder house in Utrecht gets immortalized in Lego — February 13, 2014 @ 1:54 pm