Football cup that any team can win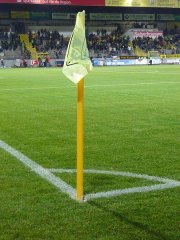 The Helmond Cup is an unofficial football championship grafted onto official competitions. The team that beats the last champion in an official match becomes the new champion, so that you get a chain of champions across many unrelated competitions.
It was founded by the Huisman family from Hillegom, avid fans of Helmond Sport, a club that has yet to get out of the Dutch second division. Since it was founded in 2008, the Helmond Cup was won and held shortly by teams from the Netherlands, France, Ukraine and Spain. You can it follow its travels at the Ajaxtalk forums.
A similar cup is the Unofficial Football World Championships, founded by Scotland fans when Scotland beat archnemesis England, who were then the real world champions. Currently, the Netherlands hold that trophy, although we might lose it next month when playing Italy in a friendly match.
(Photo by Wikimedia user Carolus Ludovicus, some rights reserved.)