Flu scare turns Dutch into discriminating kissers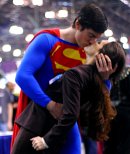 Almost 15% of the Dutch have become more selective in who they kiss because of the Swine flu.
A study held by vitamin sellers Centrum also shows that 7.5% avoid physical contact with others, Blik op Nieuws reports. Also, 6.3% have stopped shaking hands, and 1.4% have taken the ultimate step of no longer going to the office.
(Photo by Alex Erde, some rights reserved.)