Antique show lands most expensive item ever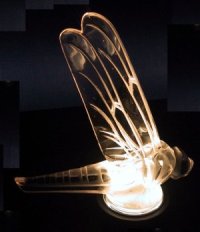 The Dutch version of British television series Antique Roadshow called Tussen Kunst & Kitsch ('Between Art & Kitsch') has landed the most expensive item ever in its 25 year history. The 'spectacular discovery' is a brooch by Frenchman René Lalique, which has apparently never been seen publicly (seen here is Dragonfly by René Lalique, as he was also a glass maker) and is said to be worth EUR 100,000. The owner, a woman, has already sold it. The show will air on Wednesday 18 November.
The brooch ended up in her family by way of Saint Petersburg, Russia, as her grandfather fled during the revolution and brought it with him to the Netherlands.
(Link: mediacourant.nl, Photo of Dragonfly by Chris73, some rights reserved.)
No Comments »
No comments yet.