Yab Yum the musical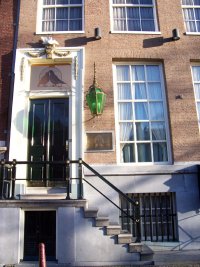 Gossip 'journalist' Henk van der Meyden and sex boss Theo Heuft have teamed up to produce a musical about the latter's former brothel, Yab Yum.
Yab Yum, named after a Tantric position called 'woman on top' in the West, was the iconic brothel of the Netherlands until it was closed down last year by the city of Amsterdam using the dubious Bibob law, which allows local governments to refuse permits on the basis of rumours.
Speaking of which, it was rumoured that Yab Yum was the place where one brought business associates if deals needed to be closed.
According to Radio Netherlands, Heuft told the Telegraaf (Van der Meyden's employer):
It's an honour that there's going to be a musical about my life's work. That's what Yab Yum was. I mounted prostitution in a golden frame.

[The musical will allow us] to enter a world of beautiful young women, of glamour and glitter.
(Photo by Chana de Wolf, some rights reserved.)