Interactive Christmas tree at Utrecht train station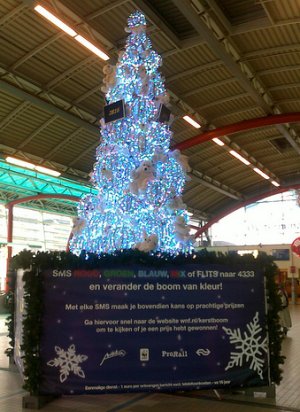 In another train related story today, Utrecht Central Station, the country's biggest train station, has a big tree that changes colour thanks to people's text messages. Travellers can text red, green, blue or flash and the tree will change colour. I wonder what colour flash is already. Anyone who bothers spending the time and effort to send a text message can enter a contest and maybe win stuff.
Maybe it makes people forget the new train schedule that causes problems every year or any train delays, who knows.
(Photo and link: Walter, used with his kind permission)
No Comments »
No comments yet.