Classic outdoor skating race with a major comeback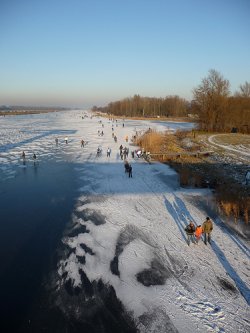 After a horrible farming accident involving many broken bones, a coma and a full splenectomy some five years ago, Geert-Jan van der Wal still won yesterday's Veluwemeertocht (Lake Veluwe tour) outdoor skating race.
It wasn't an easy win by the looks of it on television. It involved a gruelling last-minute sprint with fellow skater Jouke Hoogeveen, which had Van der Wal screaming out in pain. "I had to scream, my entire legs were in such terrible pain. I was exhausted. Man, I never would have thought this five years ago."
Of course, he has his unbelievable determination to thank for his improbable win, but he also says eating his mom's pancakes before the race gives him "the engine of a scooter".
(Link: depers.nl, Photo of Veluwemeer by MPhernambucq, some rights reserved)
No Comments »
No comments yet.