Revolving hotel room in museum booked solid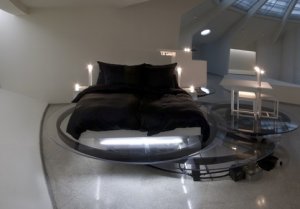 Designed by Belgian artist Carsten Höller, you are looking at a revolving hotel room installed in Rotterdam's Boijmans van Beuningen Museum. You can book this art hotel room for somewhere between 275 and 450 euro a night and have access to the entire museum to visit and enjoy in peace. The big glass plates that the furniture is placed on is what revolves very slowly.
This hotel room is part of an exhibition by Höller entitled Divided Divided, running until 25 April.
(Link: rtl.nl, Photo: boijmans.nl)
No Comments »
No comments yet.