Please Rob Me points fingers online privacy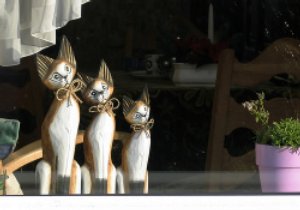 Not only have three Dutch guys (Barry Borsboom, Boy van Amstel and Frank Groeneveld) managed to make a point about privacy on the Internet, they have attracted the international blogosphere with their site Please Rob Me, "Listing all those empty homes out there".
Please Rob Me basically shows you how much info you are giving out through social networks. You Twitter 'Stuck in traffic' or 'I'm in Rome for a week', you use Tripit to announce where you're jet-setting off to next, Facebook to update your 'friends' on your whereabouts and Foursquare to tell people you are the 'mayor' of that noodle place downtown because you chow down there so often.
Boy van Amstel said on telly that he had no bone to pick with Foursquare, but did say it was the prime example of telling potential thieves when someone is not at home. Although other sites tell people where you are as I mentioned, Please Rob Me is aiming its guns at Foursquare with a Twitter account showing all the Foursquare tweets.
In a long blog posting, Foursquare tell us they are not happy campers and that they do respect privacy. It's how people choose to give out information that is the problem. Two thirds of the Western world is not at home during the day and geo-location services like Foursquare will probably not lead to more robberies. However, on both Twitter and Facebook, you get to choose who follows you and therefore who reads your information. With Foursquare people tend (my Dutch friends do this) to push where they are to Twitter and Facebook, letting everybody read it.
But do we care? I don't get why these guys felt the need to make this site or target Foursquare. Many Dutch houses don't even have curtains (an old Dutch tradition!) and you can see the entire living room, flat screen TV and all. This site has the finger wagging 'Dutch uncle' (someone who always knows better) all over it.
So don't overshare (most of us already do) and go easy on the drunken photos or photos of you drinking booze, it will damage your chances of getting a job (that's me finger wagging now).
(Links: Please Rob Me, Foursquare, Photo of Living room window by Jimmy2000, some rights reserved.
3 Comments »
From the criminal code:

Article 310

They who steal will be punished with a prison sentence of at most four years, or a fine of the fourth category.

Article 48

As accomplishes to a crime will be punished:

2 they who purposely provide opportunity, means, or information required for committing that crime.

Article 49

1 An accomplish to a crime will be punished with at most two thirds of the maximum punishment for that crime.

Comment by Branko Collin — February 19, 2010 @ 11:37 am

Uh, the 'robber' at the top of the Please Rob Me page is not Caucasian, so as far as graphics go we don't seem to be moving into the information age too quickly.

Comment by chris — February 19, 2010 @ 2:53 pm

i think we should thank them…unfortunately and unconsciously we give many information about us on twitter or facebook….:(

Comment by Emel Danisman — February 20, 2010 @ 12:43 pm