iPhone app can help you quit smoking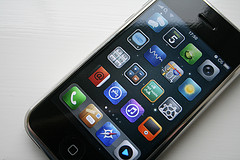 Who said trying to quit smoking couldn't be fun? On 1 March, Lianne Sleebos of the Delft University of Technology will be launching My Stop Buddy, an app to help people stop smoking. For a mere 2,99 euro, you can choose an English or Dutch app that will support you for 21 days. Fill in a personal profile and you will get activity suggestions to help you not reach for a 'cancer stick', lots of jokes about health and information on how much money you saved by not smoking. You can also push buttons according to you mood and you'll be told why you're going for a smoke according to it. It sounds like a nagging grandmother so far, but hey, I haven't seen it yet and I do hope it works. I am curious about the English version, translations and all.
And although 2,99 euro is much cheaper than a pack of cigarettes, the iPhone isn't, but OK you can get one for free with a certain telecom provider here in the Netherlands.
(Links: idealize.nl, zorginnovatieplatform.nl, Photo by William Hook, some rights reserved)