First peewit egg of the year found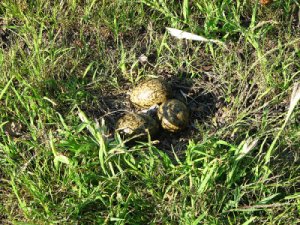 In the province of Friesland, it is a tradition to be the first one to find the year's first peewit egg ('kievitsei', in Dutch). Unlike other birds who lay their eggs in nests, the peewit (aka Northern Lapwing) lays its eggs in the ground. There are wide open fields in Friesland where people go 'egg hunting'.
Over the years, there has been much commotion about picking these eggs, as many Dutch people see it as unnecessary and what have you. As well, following a ruling by the European Union, harvesting these eggs is now forbidden — except in Friesland where a cultural exception was made. After much lobbying, the province of Friesland is now allowed to look for peewit eggs between 1 March and 9 April. I believe the difference is finding them is one thing and picking them (stealing them?) is another.
According to website Expatica.com, "It is a Friesland tradition to give the first lapwing egg of the year to the province's royal commissioner. Originally, it was given to the sovereign."
The finding of the first egg is a symbol of spring and always makes the news. The eggs in the picture are different and from Australia, albeit of the same bird.
(Link: blikopnieuws.nl, Photo of eggs by wiccked, some rights reserved)
No Comments »
No comments yet.