Very Short Film Festival now also in Amsterdam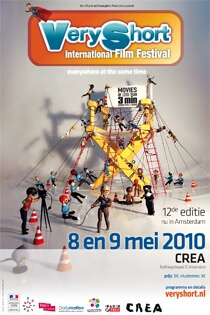 For the first time ever Amsterdam will be one of the cities hosting the 11th edition of the Very Short Film Festival, featuring movies of less than three minutes, without titles and credits. On 8 and 9 May, the CREA in Amsterdam will play host to all kinds of movies, chosen for their originality, boldness, sense of humour, generosity and even bad taste. The festival has always been very francophone in nature, but this year films are being shown in and from countries such as The Netherlands, Brazil, Hungary, Moldavia, Israel, Romania, Singapore, Serbia, Palestine and the United Kingdom.
In the spirit of 'Zoek de Nederlander' (Find the Dutch person), Alix over at drooderfiets tells me that the Public's Award of the fifth edition went to a Dutch short by Jeroen Annokkeé called 'Road Kill'.
(Link: Very Short)