HEMA shop incites children to cheat on exams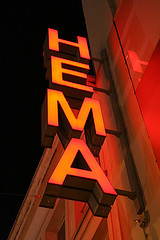 HEMA, a popular Dutch chain store, has set up a website encouraging children to share their exam cheating tips, as a way to draw attention to their back to school products. The smarty pants who send in tips get a free invisible ink pen.
According to Bizz.nl, some 18,000 (!) kids have already left tips. Now all teachers have to learn these tips by heart during their vacation, the article jokes.
Teachers are pissed at Hema, while the folks at HEMA don't think it's a big deal. In the past HEMA has had a Top 5 of most stolen products campaign, showing they have a good sense of humour.
One of the comments reads "Let's hope that the students make the grade this way since working at HEMA is probably what they'll end up doing later."
(Link: bizz.nl, Photo by Hans Vandenbogaerde, some rights reserved)