Golden Cockroach for dirtiest Rotterdam district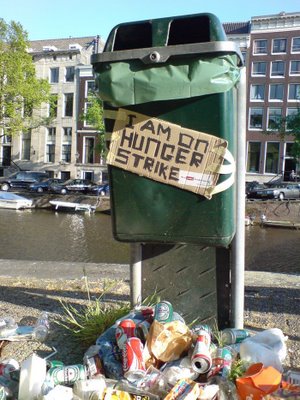 Political party Leefbaar Rotterdam plans to start a black book of the dirtiest places in Rotterdam. The scuzzy places will receive the Golden Cockroach award. Naming and shaming is apparently still considered a good way to get people to clean up their trash, but that remains to be seen — literally.
People from Rotterdam can send in pictures of oveflowing rubbish bins, rubbish on the street and whatever else fits the bill. Leefbaar Rotterdam plans to post the pics on its website. Mmm!
I snapped this rubbish bin on Queen's Day in Amsterdam a few years back. Notice how small the rubbish bins are. Plastic and glass bottles can easily be recycled at the supermarket, but not cans. Cans here are mostly made of steel and a bit of aluminium and are fished out before the rubbish goes to the incinerator.
I can tell you that these bins fill up very quickly with beer and cola cans, especially if there's a party going on.
(Link: telegraaf.nl)
No Comments »
No comments yet.