Rotterdam park gets gay sex signage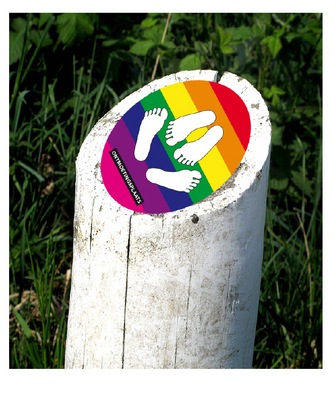 The city of Rotterdam has felt it necessary that the Kralingse Bos, a big park, get these colourful signs to warn families and the likes that gay men are getting busy (think closeted or married gay hooking up). The direction of the feet in this pictogramme is a bit confusing to those in the know. If gays are caught outside the marked zone in Rotterdam, they will be fined. The sign also implies that lesbians stay at home and watch telly. That was sarcasm.
Ironically, many of the places where straight couples and parties of three or more have sex in the woods or near the beach are illegal, and people just get fined. They should stay home and watch telly as well.
The person in charge of this typical show of Dutch tolerance was quoted as saying, "everybody has the right to have fun". Straights, however, don't have their own signs or special party places. Interesting reverse discrimination.
(Link and photo: rijnmond.nl)