Female military forced to travel far to buy bras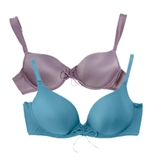 Women who work in the Dutch military are obliged to buy their sports bras from a sports good chain called Run Today. However, in the province of North Holland (in and around Den Helder) where most of the female military work and live, there is no Run Today, so women have to travel to Haarlem (about 80 km) or Groningen (about 154 km) to buy their two allocated sports bras for work. The women can also declare their travel expenses and do their bra shopping during work hours.
Marine commanders are upset about this because it's a waste of time. How stupid is the Ministry of Defense? Let the women buy their bras elsewhere! Run Today, open a store in Den Helder, pronto!
And zibb, I also told you you're a bit dumb for calling sports bras 'lingerie'. Imagine if we called jock straps 'sexy underwear'.
(Link: zibb)