Literary classics from the Low Countries as one page comics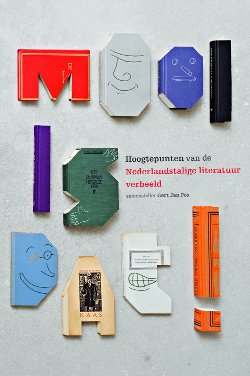 Dutch comics intendant—yes, that is an official title—Gert Jan Pos asked 57 comics artists from the Netherlands and Flanders to create abstracts of classic Dutch literature in comic form. There was one catch, each comic had to encompass the entire work in a single page.
The resulting coffee table book was published last month by De Vliegende Hollander and is called 'Mooi Is Dat!' (That Is Just Dandy!). It is sold for 35 euro.
Artist Holly Moors of Moors Magazine is happy with the result: "The book not only shows that there are a lot of very talented comics artists out there, but also that the comic has been an adult medium for a while now. The artists hardly ever merely regurgitate the work they are dealing with, but give completely personal impressions of each text."
Comics script writer Peter Moerenhout is more critical: "If comics have literary value in and of themselves, why then do we need to base comics on literary classics to prove our point? […] The need is understandable, we require bait to lure the unbelievers. At least if we used sex as bait, we could only be accused of crass commercialism, and that is no longer just an insult."
See also:
– An interview with Gert Jan Pos by Michael Minneboo.
(Illustration: cover by De Vliegende Hollander / Ruben Steeman)
No Comments »
No comments yet.