Thirty years after the Pierson Street riots in Nijmegen
Today exactly 30 years ago, the Dutch government used 5 tanks, armored vehicles, a helicopter, nearly 3,000 soldiers (MP and special army units) and police, and two types of teargas (illegal use), to end a protest in my hometown of Nijmegen against the demolition of a centuries old residential area for a parking garage.
The major point was that there was (and still is) a lack of housing in Nijmegen and throwing people out of their homes to make way for a parking garage seemed like a good reason to fight.
The Mayor signed posters that read in capitals:
1. DON'T USE VIOLENCE.
2. DON'T THROW MOLOTOV COCKTAILS, FIRE BOMBS AND THE LIKES.
3 REMOVE YOURSELF.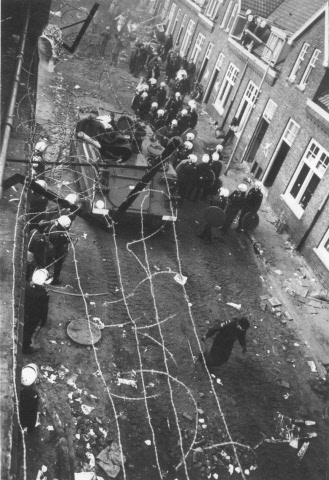 UPDATE: Free and legal download of the punk track in the background and more by Nijmegen's The Squats (Thanks Marco!)
(Tip: Thanks Rob!, Photo: studiezaal.nijmegen.nl)
6 Comments »