Real bridges to resemble the fictional ones on Euro bank notes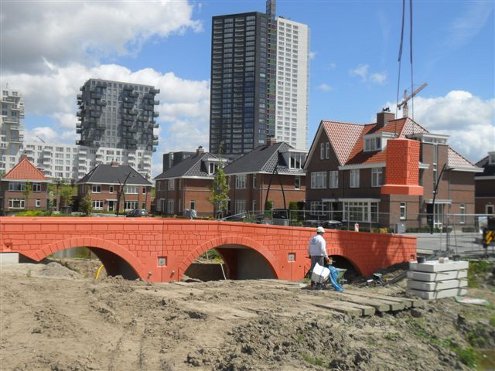 When Austrian engraver Robert Kalina designed the bank notes for the euro in 1996, he selected the architectural history of the bridge as his theme. Each note displays a drawing of a bridge from a certain period—but, as per the rules of the competition, Kalina could only use fictional bridges to avoid giving greater prominence to some countries.
Artist Robin Stam is now putting prominence where prominence is due—the Netherlands. He is making all seven fictional bridges very real by building them across a ditch in Spijkenisse. No word on when this will be ready.
Photo: Tumblr / Robin Stam. Via Trendbeheer.
2 Comments »
[…] we wrote a couple of days ago, Robin Stam is making real bridges of the fictional ones you can find on the euro banknotes. His playground is a new neighbourhood in Spijkenisse near Rotterdam (bordering the Oude Maas […]

Pingback by 24 oranges » Two hundred euro note bridge will become pedestrian crossing in Spijkenisse — June 18, 2011 @ 2:22 pm

[…] 2011 we reported about pedestrian bridges resembling euro bank notes in Spijkenisse near Rotterdam and that they would be built at the same time as the neighbourhood […]

Pingback by 24 oranges » Touring the euro bank note bridges in Spijkenisse — September 2, 2014 @ 11:38 am