Man gets driving ban in Germany for having a confusing address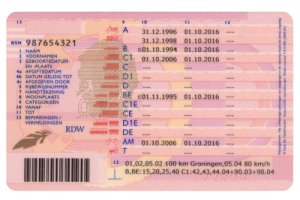 During a routine check in Germany a man from Nijmegen had his driver's license revoked and received a driving ban as he still had an outstanding ticket for going 40 kilometres over the speed limit in 2009.
Ronnie Gashi argued that he never received the ticket. The police ignored this popular excuse, but the Dutchman managed to have his driver's license returned on the spot when he pointed out that the police officer was writing down his address incorrectly, and that this could conceivably also be what had happened the last time. The Nijmegen neighbourhoods of Dukenburg and nearby Lindenholt are numbered instead of named—rare for the Netherlands, and apparently also for Germany.
The Gelderlander reports that the police contacted a public prosecutor who advised clemency.
For some reason, the driving ban was upheld, the paper does not tell why. Gashi is still fighting the month long suspension. I am also not sure why "Lankforst 5336" instead of "Lankforst 53-36" would confuse the mail, in fact that is how I wrote my address when I lived there.
(Link: gelderlander, Photo of back of Dutch driving licence)
2 Comments »
Wait, Germany DOES has speed limits? God dammit. **Cancels vacation**

Comment by Alex — June 20, 2011 @ 7:58 am

"Germany DOES has speed limits?"

Only on the side-walks.

Comment by Branko Collin — June 20, 2011 @ 10:44 am